Jump start Your Immune System With Nettles
Nettles – now that summer has arrived many of us are thinking of detoxing our bodies and getting out to enjoy warmer days. Today there is a growing interest in the benefits our natural wildflowers can freely offer us. Sometimes we class many of our plants as weeds, but a lot are actually good for you. Going out to look for and gather edible plants and herbs offers many benefits, it gets you out into the outdoors and gives you more knowledge about the seasons of nature-it's free and costs nothing but time. When going out foraging please be respectful of your countryside and leave only footprints.
This month we are highlighting the tremendous benefits of nettles, a wildflower commonly found growing as a weed in gardens, waste ground, meadows and fields.  We tend to know it as 'the stinging nettle because the tiny hairs on the leaf can pierce the skin which releases formic acid causing slight itching, however, once cooked nettle leaves are not harmful.
Nettles are a powerful Herbal Medicine rich in Chlorophyll (the green pigment found in plants) and are abundant in the minerals our body needs -iron-chromium-zinc-copper-magnesium and silicone, the plant is also extremely high in vitamins A-C-D-E-K.
When juiced or made into a tea it is a strong immune booster and contains potent anti-inflammatory agents to neutralise toxins and other foreign substances in the body.
Nettle leaves are powerful and can help to prevent the following-
Chronic Headaches-Sore Throats- Sinus Infection-Fatigue
Reduce Blood Glucose Levels(beneficial for diabetics)
Relief for Digestive Issues(nausea, flatulence, acid reflux and colitis)
Helps Relieve Bronchial Ailments (chronic coughing, chest congestion, COPD)
Eliminate Viral &Bacterial Infections
Natural diuretics by removing excess fluids in the body
Support the endocrine system beneficial in boosting liver and heart health
Helps with urinary tract infections(bladder and kidney stones)
An excellent mouth rinse helping to prevent gingivitis and the build-up of plaque.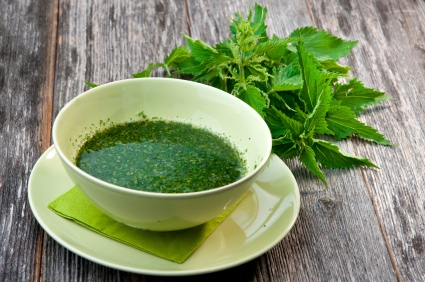 One of the easiest recipes to make is Nettle soup, but first, you have to get your gloves on, get out into the country and start foraging- its best to use scissors and only snip the fresh leaves from the tops of young nettles. You will need to take a carrier bag to collect the nettle leaves.
Ingredients
Half a carrier bag of freshly picked Nettle tops
I large onion finely chopped
2 cloves Garlic finely chopped
I large potato thinly sliced
50g butter –or-1 tbsp Olive Oil
I litre vegetable or chicken stock
Salt and pepper to taste
Crème Fraiche
Method
Empty the nettle leaves into a colander, rinse and drain thoroughly.
Gently heat butter or olive oil, add onion and chopped potato, cook gently for 5-7 minutes until softened then add chopped garlic.
Add Nettles and continue to sauté until the nettle leaves are wilted.
Add either vegetable or chicken stock.
Cook until potato is softened, then remove from heat.
Using an electric hand-held stick blender, purée the soup and season to taste.
Ladle into warmed bowls and top with a teaspoon of crème Fraiche.
If you prefer you can sprinkle your soup with grated Cheddar cheese, croutons or crispy bacon bits.
The benefits of nettles can be found in teas capsules and tinctures.
For other exciting ways to use nettles Nettle Cookbook: Recipes for Foragers and Foodies Hardcover – 7 May 2015